US Department of Energy outlines some tips for a greener life at home. Considering the huge amount of energy consumption globally, one may doubt the ability to make a change with individual efforts.
Well, the web site says there is a lot one can do to reduce consumption; and yes MONEY!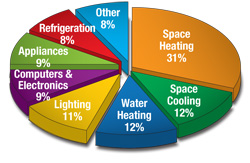 The buildings we in in are responsible for the most of the green house gas emission. Mostly, due to inefficient insulation or air leakage. The counter that, we can make a whole-house energy efficiency plan, which means – quite rightly I suppose – the dwellings should be considered as a whole consisting of different parts all of which should be "green" to reach a meaningful goal of reduced energy consumption.
The energy consumption of different parts of the world vary and you may consult an auditor to find out the less energy efficient ones. Yet, in average it is the heating that accounts for the most of it.
Architect Thomas Auer once said that the money spent on heating is around EUR 100, regardless of the climate! In other words, the averages doesn't indicate a significant difference between the heating costs of the coldest and the warmest countries. Why could that be?
Apparently, people think of that amout to be a sunken cost… which, it is not. Today it is very much known to eveybody that a sound building doesn't have to need any heating at all.
To read more on insulation, please click here.